There's nothing more time-consuming for you or your employees than having two or more software systems that can't speak to each other. System integration allows your company to focus on the tasks at hand and allows for you to streamline your workflow and be as efficient and effective with the time you have. Your time is precious and therefore you can't spend it transferring data from one software solution to the next.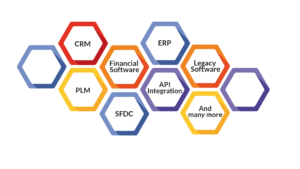 Merging Multiple Software Platforms 
During growth of a business, often multiple software applications run various departments – accounting, sales, marketing, operations, etc. Software integration can combine multiple platforms or a UI to connect them so they can efficiently speak to each other. 
Legacy Integration with New Software Platforms
A tenured enterprise may have legacy software programs in place. Integrating with newer, more up-to-date technologies rather than replacing an entire system all together may lead to lower overall costs, but still provide the same benefits. 
System integration has multiple key benefits:
Reduced Errors

– When employers are spending time transferring data from one solution to the next, there is bound to be human error. People make mistakes especially on tedious, unnecessary tasks.

Cost Efficient

– Combining software solutions increases efficiency, streamlines processes, boosts productivity and therefore increases revenue and lowers operating costs. Funneling your data to centralized databases can help to save on the amount of storage and servers needed driving down overall costs. Also, integrating systems reduces the time IT needs to spend on each system which will in turn lead to lower IT costs overall. So many reasons it's a win win for all!

Streamlined Process

– When you combine systems, you eliminate unnecessary steps and workflows allowing for you not to waste your employees time and therefore your companies' time. 

Real-Time Visualization –

When there are multiple applications – businesses can find it challenging to see the big picture in real-time. Siloed systems can cause a lapse in real-time data and can be cumbersome to analyze quickly. Integrated systems give you a centralized location to fully comprehend all that's happening at any given time. 

Increased Customer Care

– When systems are integrated, departments can acquire and use customer data in real-time. Customer service issues can be noted and resolved quicker in one interface than having to jump from system to system. 
Centralizing and streamlining your systems could be the best decision you never knew you needed to make. Take the time to think critically about your overall software set-up and what programs aren't speaking efficiently to each other. It could not only save customers of yours from walking away, it could keep employees more efficient and therefore happier and help with your business overall bottom line.