Is a Custom Solution Right for You? 
When taking on a new challenge or problem, many have a hard time deciding between custom software development vs an off-the-shelf solution. Choosing between the two options can be a difficult decision for any manager or leader. Let's dive in to a list of considerations to help you assess if a custom solution is right for you.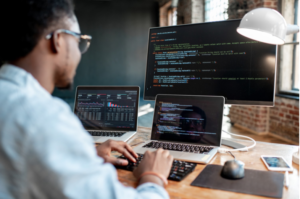 Tailor-made – You identified this unique circumstance or problem. You know the in's and out's of this problem and the necessary solution better than anyone. Creating a custom-software specific to the problem means it's going to meet the specific needs of your enterprise. Also, usually a custom software solution created by a third-party, from your own ideas and problem-solving strategies, can solve the problems of many others in your same industry. You, in turn, get the patent rights to that software and can then sell it to make a bigger impact than just within your own organization.

Long-term investment – Biting off the initial investment of custom software might seem expensive in the beginning, but in the long run, a long-term solution may get you higher returns. While it may seem like a high investment in the beginning, the costs usually become negligible in the end. A detailed ROI would help you decide if the investment is worth it.
Productivity – Custom applications often automate repetitive tasks which in turn can make organizations in all different industries more efficient. Productivity for yourself and your staff can increase significantly saving you both money and time across the board.
Maintenance/Support – Most third-party services provide support and maintenance with the software created specifically for you. That means the more you use it, the more tweaks and changes you may have. The support and maintenance is all handled by the greater of that custom software solution and therefore, one less headache or concern for you to worry about. 
Security – Mainstream software is much less secure and often targeted by hackers who are looking to make a large impact quickly. Custom software is much more secure and harder to hack. Cybercriminals aren't as interested in attacking one or two companies, but would rather go after an entire industry.
Flexibility – Working with a third-party to design, create and implement custom software is a very interactive process. The process is usually iterative, with changes being made as more needs are identified. That being said, one pro to custom software then is the flexibility it provides. You decide on the features of the software depending on the needs of your business. 
Competitive Advantage – With custom software, you have a unique solution that no one else in your industry now has. This is your unique advantage and is a selling proposition that you can use with your customers forever. 
Easy to Operate – Custom software is easy to operate as it's built specifically for you, the end user. Off the shelf solutions may have a lot of features that you don't need as they are meant to serve a very large audience. Your custom solution will be easier to operate because it is tailor-made for you. 
Ensure You're Receiving a Great ROI – A good assessment should be done when deciding if a custom solution is right for you and your organization. Always make sure you're going to get the most bang for your buck. 
Time Involved – The software development process needs to be done right from the beginning so there is a large investment of time early on that is required. To fully test the software and make sure that the user experience is on point, this requires time which some companies may not want to put forth especially early on in the beginning of their business.