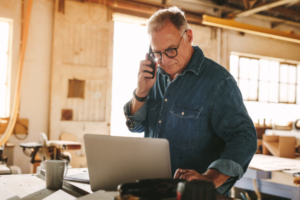 We're in an unprecedented time where priorities have shifted, existing schedules have disappeared, and most importantly, lives have been impacted. While life may seem to be at a standstill, time is not. Prioritizing your company, your employees and your customers during this season is key. If you and your company are not setup for this paradigm shift – let us help.
Whether it's finding the right free software tools to help your team work remotely, enhancing an existing application or process to connect your business, getting that cutting-edge idea to market sooner or helping you draft a campaign to communicate directly to your customers, we're here to help. Email us at contact@lyncstream.com or call us at 402-502-0648.
Here are four ways to keep your vision, goals and business moving forward during this challenging time.
There are several tools available so that you can stay in touch and keep working no matter where you are. We help teams all over the world implement a mixture of these tools and we help businesses build their own communication software tools for their specific companies needs. Here are a few tools:
Establish some ground rules to control this flexible work environment and to ensure maximum productivity:
Communicate a clear, consistent schedule ex. All-hands meeting at 9am, etc.

Establish deliverables for each team member.

Use milestones for projects to help ensure your team is staying on track.
Having remote employees may also mean having more relaxed and therefore overall happier employees and who doesn't want that!
The current volatile stock market and overall economy has put many small business at risk. If your business is struggling financially – here are some helpful resources that are at your fingertips.
Whether you can't pay off outstanding debts, bills or payroll – these low-interest loans from the Small Business Association are available to any small business that has sustained substantial economic injury. Nonprofits qualify for an interest rate of 2.75% and small businesses qualify for an interest rate of 3.75% (no credit required).
The largest online network in the world wants to help you keep your lights on. Whether it's for paying your bills, helping you connect to new customers or going directly to your workforce – this money will go to 30,000 small businesses and there is no reason it shouldn't include yours.
Bank and Credit Card Company Assistance
Capital One, Citi and Wells Fargo are just a few that have issued statements either waiving monthly service feeds, waving fees on early CD withdrawls or just asking customers to reach out if you are experiencing financial hardship. Reach out to your institutions to see what allowances and assistance programs they are providing. We're all in this together and they want to help.
Federal Small Business Assistance
Legislation is in the works to help: cancel the payment of all payroll taxes typically paid by employers for March, April and May; expand loan programs for small business with fewer than 500 employees experiencing revenue loss; create credit facilities to provide loans and loan guarantees to employers with more than 500 employees experiencing revenue loss.
You now have an extra 90 days to pay your 2019 Federal income tax. The new tax due date is July 15, 2020. ***Note – you still have to file a tax return or an extension by April 15.
Business Interruption Insurance
If you've had to shutdown during this pandemic, this insurance may be an option for you. Ask your insurance broker if you qualify and if not for this emergency, you may be better prepared for the future.
How you share with your customers about your current state of business and the changes you're making during this challenging time is not only important to build trust, but also important to show them that we are all in this together – every single person is affected. Tell your customers about:
Operational Changes within your organization – remote working, cancelled travel, in-office sanitation expectations, payment processes, etc.

Key Upcoming Challenges – finances, employee pay structure, etc.

Unique Upcoming Opportunities – any new, exciting opportunities for your organization and, if possible, for your customer(s).

Any morale boosts possible – Share what your organization and staff are doing to make the best of the situation.  Fun company "distancing" events, how your organization and/or staff are helping make a difference, or anything positve and fun
If there ever was a time to be honest and transparent with your tribe of customers – now is that time. Trust begets trust.
Strategic Online Presence
If you haven't created a strong online or mobile blueprint for your company, now's the time. While you may have a website or a small internet presence, perhaps changes could be made to adjust to our current situation or maybe now is the time to take your business, product, and/or sales strategy to the next level.
This could include:
Maximizing your marketing efforts by capitalizing on your email list.

Creating a software solution to revolutionize the existing legacy methodologies in your industry.

Building out an online storefront or boutique to reach your customers where-ever they might be.

Launching that app idea that you know will take your product or service into the hands of millions of people across the world.

Modify existing workflows, technology and software to collaborate more effectively with a mobile and remote workforce, vendors, and customers
Need help with any of the above? We, at LyncStream, are in this with you. Email us at contact@lyncstream.com or call us at 402-502-0648.